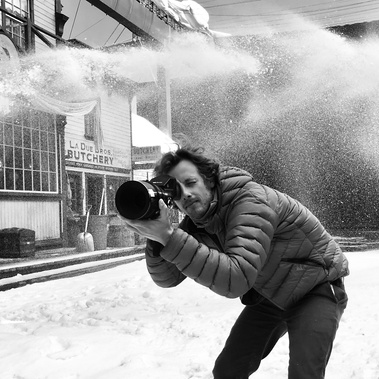 Bartosz Nalazek is a Polish cinematographer based in Los Angeles.
His narrative work includes feature films 'Run Sweetheart, Run' written and directed by Shana Feste, selected for the 'Midnight' section of Sundance 2020; 'Eastern' directed by Piotr Adamski nominated for Best Cinematography in Polish Films Competition at EnergaCamerimage 2020; 'Tell It To The Bees' directed by Annabel Jankel that premiered at TIFF 2018 starring Anna Paquin and Holiday Grainger; the Netflix hit 'The Perfect Date' directed by Chris Nelson and 'Song of Back and Neck' directed by Paul Liberstein, selected for US Competition of Tribeca Film Festival 2018.
In television Bartosz debuted with 'The Artists' directed by Monika Strzępka that were nominated for Best TV series of 2016 by the Polish Academy.
Bartosz also worked as 2nd Unit Director of Photography for Janusz Kaminski on 'Call of the Wild' directed by Chris Sanders, 'The Post' directed by Steven Spielberg and for David Franco on 'Boychoir' directed by Francois Girard.

After graduating from The Polish National Film School in Lodz he assisted cinematographer Janusz Kaminski on feature films 'War Horse', 'Lincoln', 'The Judge' and 'Bridge of Spies'. He was selected for The Emerging Cinematographer Award in 2014 by The International Cinematographers Guild and nominated for the Streamy Award for his work on 'Making A Scene' for The New York Times Magazine.
Bartosz works also as light designer and video artist for theater and opera. His portfolio includes over 30 plays in collaboration with renown polish theater directors such as Krzysztof Garbaczewski, Krystian Lupa, Andrzej Chyra, Barbara, Wysocka, Maja Kleczewska, Agnieszka Olsten, Wiktor Rubin and Lukasz Twarkowski. In 2014 he received a prize for best visual design for 'Kronos' on the 7th Devine Comedy International Theater Festival.